Who is tired this morning? Post-Oscars Monday is like Post-SuperBowl Monday but for women…one of the least productive mornings collectively.
But with Post-Oscars Monday comes all the best and worst dressed lists…including mine! Here are my faves and not so faves:
Best Dressed
Jennifer Lawrence
Simple, but perfect fitting dress. Loved the hair and necklace! She just seriously needs to learn to walk in heels already.
Lupita Nyong'o
Gorgeous dress! Gorgeous colour! Loved the hairband and lack of bling. So elegant!
Kate Hudson
Totally the dress I would wear if I was a presenter (a girl can dream right?). It's very Gwynnie Paltrow, circa last year with the cape.
Jenna Dewan
Her best accessory may be Channing, but the dress speaks for itself! Simply stunning.
Cate Blanchette
Clearly she got the nude beading memo…seemed to be the trend this year!
Maria Menounos
I adore this look. Again, the colour with beading is very regal and stunning, but I really love her hair!
Worst Dressed
Jennifer Garner
Seriously, this isn't the 1920's. Tassles are very OUT. I thought the dress did nothing for her, and the colour was blah…
Amy Adams
Amy, you need a new stylist. She rarely gets it right in my opinion. The dress doesn't do it for me, but what really shocks me is who ever decided on her hair style?! There are no words.
Leslie Mann
No – just no. The Oscars isn't high-tea in the garden. The colour is amazing on her, but the dress is almost too…casual. I don't like this pick for the Oscars.
+
Margot Robbie
WOAH – what a transformation. And not in a good way. She went from being one of the most beautiful on every red carpet to totally ruining EVERYTHING at the Oscars. It's one thing to dye your hair, but then why choose a black, completely unflattering dress? And dark lips? Yikes.
Trending: Pregnancy
I thought all three preggers women (Kristin Cavallari, Kerry Washington, and Olivia Wilde) nailed their dresses! Three very different choices, but they all looked equally gorgeous. Good work ladies!
Best Moment
Obviously….Ellen's selfie. Amazing!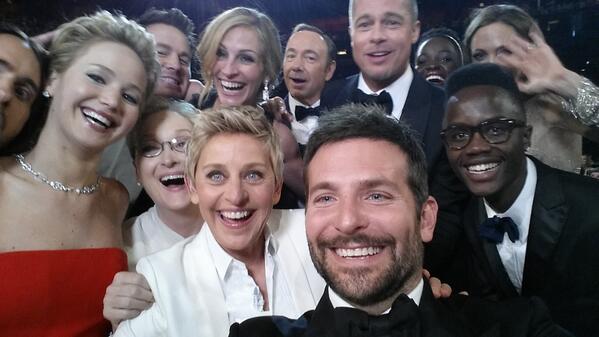 Who made your best and worst dressed list?